Watch Video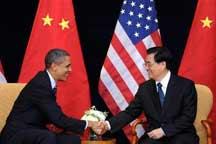 Play Video
Sino-US relations experienced significant swings in 2010 as the two countries expressed major differences on a number of key issues. At a time when important global and regional problems require the leadership and cooperation of both countries, Beijing and Washington are getting closer again.
Both Beijing and Washington were optimistic and upbeat about Sino-US relations when Barack Obama entered office in 2009.
Since then, bilateral ties have appeared to be on track.
The presidents of the two countries met on a number of occasions in 2009 during the G20 summit, the APEC summit and UN security council meetings.
The US president made a state visit to China during his first year in office, the first president to do so.
But events soured in 2010. The honeymoon came to an end after the Obama cabinet notified congress of its intention to sell 6.4 billion dollars worth of defense products to Taiwan in late January.
Then, the US President met the Dalai Lama at the White House in early February.
The move was considered as seriously undermining China's national unity and sovereignty.
Beijing responded by suspending Vice-ministerial-level talks on arms control, and military to military contacts, including the postponement of planned visits by the PLA Chief of the General Staff, Chen Bingde, and US Pacific commander, Robert Willard.
Bilateral tensions grew further in the summer when China openly protested US and its allies' joint military exercises in the Yellow Sea.
The differences came to the fore when US secretary of State Hillary Clinton claimed the South China sea as a US national interest.
Observers say Sino-US relations in 2010 demonstrate the relationship between a superpower and a rising power. Yet, unlike US-Soviet relations during the Cold War, Sino-US economic ties are extensive and deeply entrenched.
The US is still China's second largest trading partner. Despite differences over trade imbalances, currency and intellectual property rights, the Chinese market has become the fastest growing destination for US exports in recent years.
China continues to finance US debt with purchases of US treasury bonds.
Many say President Hu Jintao's scheduled state visit to the US in January this year will provide an opportunity to reassess bilateral relations. And such assessment will equally test both countries ability to show commitment and compromise.
Editor:Zhang Ning |Source: CNTV.CN