Watch Video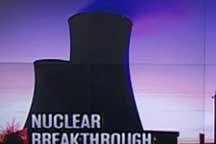 Play Video
China has made new breakthroughs in nuclear technology. The country's scientists say they are now able to extract uranium and plutonium from spent fuel. This means China's detected uranium storage can be sustained for more than 3,000 years. Currently they can only fuel plants for between 50 to 70 years.
The technology has been developed and tested at the China National Nuclear Corp No. 404 Factory in the Gobi Desert in remote Gansu Province. It enables the reuse of irradiated fuel and is able to boost the uranium material usage rate at nuclear
plants by an incredible 60 times.
Under current nuclear power technology, only three to four percent of nuclear fuel is used, with the remaining materials generally treated as waste.
But soon this will be a thing of the past.
Wang Jian, chief engineer of CNNC Fuel Reprocessing Project,said, "We will reprocess the spent fuel, that is to extract the recyclable part and and the newly generated part from burned materials, through a series of chemical reaction process. So they can be used to generate more power."
Scientists say the breakthrough could potentially solve China's uranium supply problem.
But independent scientists argued that commercial application of nuclear fuel reprocessing has always been hindered by cost, technology, proliferation risk, and safety challenges.
So far, only France, the UK, Russia, Japan, and India have mastered the technology. Each country treats these core technologies as classified. It took the Chinese scientists 24 years of hard work to catch up.
Wang Jian said, "We designed and built this facility all by ourselves, it's 100 percent original."
This is also part of China's broader effort to push into nuclear power in to help move away from its over-dependence on coal as a source of electricity.
Current Affairs Commentator Professor Xietao said, "Nuclear power accounts for about 20 percent of the total electricity output in the US. And the corresponding figure for China is only 6 percent, and that's the projection for 2020. Most of China's electricity is generated by coal-fired power plants, which are very polluting to the environment."
China now has 12 working reactors with 10 gigawatts of total generating capacity.
Its target is have 40 gigawatts of installed nuclear generating capacity by 2020, but the government has indicated it could double the goal to about 80 gigawatts, as faster expansion is one of the more feasible solutions for achieving emissions reduction goals.
By extracting uranium and plutonium from spent fuel, China has gone another step further in using nuclear energy. And more significantly perhaps, it's expected to speed the country's transformation of its growth model that puts a priority on building a low-carbon economy.
Editor:Zhang Ning |Source: CNTV.CN