Watch Video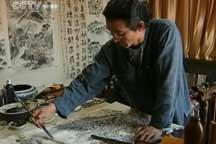 Play Video
Chinese arts including calligraphy, painting, and folk music, have long been revered around the world as mysterious and graceful. Some overseas fans travel to China for a glimpse of its ancient culture, while others spend years learning the soul of Chinese arts.
Traditional Chinese ink and wash paintings are a labor of love for South Korean calligrapher Li Zaihu.
At the age of six, Li's father taught him Chinese characters. Since then, he has been fascinated with Chinese culture. Li's workroom in South Korea exudes Chinese influences, which has impressed many visiting Chinese artists.
A Chinese artist in Li Zaihu's workroom, said, "I was deeply in awe of his studio. It has all the traditional Chinese painting tools and tea set. Even the screen is from China. I felt as if I was in China, despite being abroad."
Li became interested in Chinese paintings during a cultural exchange session between China and South Korea. He was mesmerized by Chinese artworks' vibrant colors and the use of ink. This inspired him to enroll at the China Central Academy of Fine Arts in Beijing.
Zhao Ping, teacher of China Central Academy of Fine Arts,said, "When I first saw his painting, I realized that he might not be qualified. But his calligraphy encouraged me to teach him. I thought there might be some potential in him."
It didn't take Li long to learn the skills of Chinese painting. But grasping a deeper cultural understanding of Chinese ink and wash paintings proved a greater obstacle.
Li Zaihu said, "It was so hard initially because I was not familiar with China, the people, and their habits. So painting was hard at that time."
Li immersed himself in learning Chinese history and culture. He frequently visited Panjiayuan and Liulichang, two of Beijing's most famed districts for arts, crafts, and antiques.
Li Zaihu said, "South Korea doesn't have anything comparable to these districts. Especially the stones, my country has nothing like this."
After two years of intense study, Li's hard work eventually paid off and was reflected in his flare as an artist.
Zhao Ping said, "There's noticeable progress in Li's paintings. They even reflect his life, his childhood, and what he sees in life."
Li Zaihu plans to contribute more to the cultural communication between South Korea and China after he graduates from the art academy. He also intends to teach his children Chinese characters and Chinese culture.
Editor:Zhang Ning |Source: CNTV.CN