Watch Video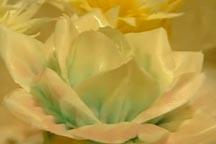 Play Video
Bouquets of chocolate flowers, crafted by a mainland artist, are wowing audiences on Taiwan Island.
The peonies, roses, and mums are not real, as they're made of the sweet treat. The idea was the brainstorm of 26-year old Wu Wen, after she was invited to a chocolate art show in the city of Taizhong. After warming up the ingredients, the artist flatted everything as thin as paper, collected the small pieces layer by layer, and shaped the parts into flora.
Audience members say the flowers look incredibly real, and express amazement over her skills. The artist adds that it took her 10 hours a day, over the course of a week, to master the skills needed to carve each type of flower.
Editor:Zhang Jingya |Source: CNTV.CN