Watch Video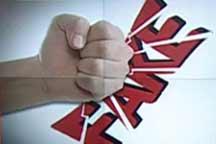 Play Video
China is set to launch a crack down on copyright infringements. Counterfeit products are gradually being eliminated from domestic markets, but top international brands are still popular with counterfeiters, due to their high profit margins. And as Peter Koveos discovers, the dealers have found a new way out.
Online shoppers and fashion victims never thought they would fall victim to counterfeit gangs.
Jiangyin resident Mr. Zhang said, "I found a Burberry coat in an online shop priced at 1700 yuan."
Zhang knew the coat would normally cost at least ten times that price. So he made an order without hesitation.
But the coat was not what Zhang had expected. After his request for a refund was refused, Zhang filed a complaint to the local commercial administration.
Chen Yang, official of Jiangyin Commercial Admin., said, "We located the online shop in a hardware factory. We launched a surprise check to their warehouse, and we were shocked at what we found."
A huge collection of famous brand designs was well organized and sorted. The goods included watches, outfits, shoes, and handbags labelled under 78 leading international brands, with a total value of 50 million yuan. They have all been identified as fakes.
Chen Yang said, "This is a copy of an Armani coat. It matches the smallest detail of the genuine ones, such as the logo on the zip. The material is also real fur. The tag says made in China, but Armani says they don't have any factories in China for high-end fur products."
Officials say the counterfeit gang is well organized, and has developed an administrative system that includes manufacturing, marketing, and selling. The staff have also been trained with knowledge of the famous brands.
At present, China's luxury goods purchasing accounts for a quarter of global consumption. Many producers see fakes as an effective way of making money in the fiercely competitive market.
Related:
Backgrounder: National counterfeit crackdown achievement
The special campaign is also calling for cross-ministry efforts in fighting violations of intellectual property rights. Full Story>>
Editor:Zhang Ning |Source: CNTV.CN