Watch Video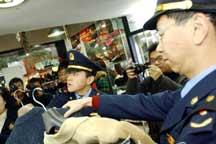 Play Video
The special campaign is also calling for cross-ministry efforts in fighting violations of intellectual property rights.
December 2nd 2010, police in Guangzhou, capital of South China's Guangdong Province, confiscated more than three-thousand counterfeit purses. Among the fake brand names were Hermes and Louis Vuitton. The bags were worth about 160 million yuan.
Those copies were of the latest designs and sold at around 1000 yuan each, which is one percent of the price of the real ones.
Meanwhile in Shanghai, police also cracked a counterfeit ring and seized 10-million-yuan worth of falsely branded bags and suitcases. The suspects say they stocked those copies from Guangzhou and sold them via online shops.
Customs officials in east China's Hangzhou City in Zhejiang Province seized more than two-thousand counterfeit brand items. The knock-offs included handbags, belts, clothes, and sunglasses.
In nearby Ningbo, customs found low-end non-durable consumer goods were also being counterfeited. The fake products include toothpaste, shampoo, and locks.
Customs are increasing the supervision of the products by examining each bulk export batch.
Editor:Zhang Ning |Source: CNTV.CN