Watch Video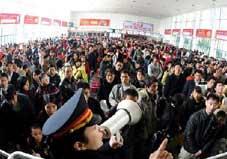 Play Video
Chunyun, or China's Spring Festival travel period, is an annual test of the country's transportation system. Beijing Railway Station is always one of the busiest in the country, and is bracing itself for increased passenger numbers from Wednesday.
It's the largest annual migration of people anywhere in the world. China's Spring Festival travel period is expected to see over 230 million passengers make journeys this year, an average of 5.75 million per day.
A daily number of 70,000 passengers are heading home from here, the Beijing Railway Station. To accommodate the increased demand, tickets are sold 24 hours a day and at all of the 419 ticket booths here and at Beijing South Station.
Management staff have transferred to the ticket booths to take on extra shifts. They work 12 hours a day with only a thirty-minute lunch break. The long working hours will remain in place until the end of the Spring Festival.
The extra staffing has helped to speed up ticket purchasing.
A passenger said, "I just got off the train from Lahsa. I've queued for 20 minutes to get a standing ticket for a fast train to Changchun. "
A passenger said, "I've queued over ten minutes and get a ticket home. The bullet train will cut around ten hours of my journey time. "
Nearly 600 extra trains have been put into operation, with 53 new express lines opened.
On the main rail arteries, such as Beijing to Harbin, Beijing to Guangzhou and Shanghai to Kunming, freight traffic has been reduced, to clear the way for more passenger trains. But it's not just extra services that are helping beat the rush.
Professor Ji Jialun from Jiaotong University said that the biggest change this year is that transport capability has been obviously enhanced.
Professor Ji Jialun from Beijing Jiaotong Univ., said, "In the last five years, China has laid down 15,000 kilometers of new rail lines with an increasing number of carriages. Due to China's rapidly expanding network, 480 high speed trains have been put into service, along with 8 and a half thousand regular trains. Most trains in service now have considerably lower journey times, so overall capacity has been boosted."
According to officials, the icy weather in South China poses a lesser challenge to railway transportation than to road traffic. 500 internal combustion locomotives are being made available to move trapped passengers from areas affected by extreme conditions.
Related stories
Editor:Zhang Ning |Source: CNTV.CN