Watch Video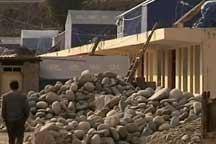 Play Video
Let's turn to Wenxian county in western China's Gansu Province. Following 2008's devastating earthquake, survivors were told they would be given decent housing. But the harsh reality is falling way short of the promises. Two and a half years later, almost half the residents of the county are still living in relief tents.
Walls have cracked open. Beams were broken even before the project was completed. Despite this, these dilapidated units are still home to many Wenxian residents.
Ren Songxian, resident of Renjiaba Village, Gansu, said, "The provincial quality authorities came to inspect the buildings six months ago. They concluded the flats were dangerous and unsafe to live in."
The houses of all 62 families in the village were reduced to rubble during the deadly quake. But only 44 relief apartments were ever built. And they were identified as "dangerous", a year and a half after completion.
Zhang Guilin, director of Wenxian Construction Bureau,said, "The construction teams used inferior methods, and cut down on materials. We were short of bricks and cement after the quake."
Officials admit there was no bidding process for the construction project and no blueprint. Villagers accuse local officials of doing little to help them.
The director of the local construction bureau tried to explain the reasons behind the lack of supervision of the project.
Zhang Guilin said, "We've been to the construction site several times, but we didn't find any problems. We have only ten people to cover all the construction projects within the county. This is a problem. And of course, we have responsibilities."
Two and a half years on from the disaster, nearly half the villagers are still living in relief tents. But with falling winter temperatures, the promise of decent housing seems to be receding into the distance. Just when, and how, these people will finally find a safe place to live in the foreseeable future, remains to be seen.
Editor:Zhang Ning |Source: CNTV.CN