Watch Video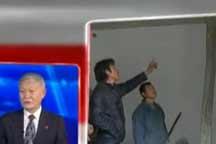 Play Video
It's come as something of a shock to find that reconstruction funds for the quake zone have been relocated for other uses. The central government granted large funds for companies in Wenxian to re-start their businesses. But so far, they haven't received a penny. Full Story>>
For more analysis on post-quake reconstruction projects and funds, we turn to our current affairs commentator, Mr. Gregory Yingnien Tsang.
Q1: It's painful to see how the funds are being abused by local government while it's supposed to help local people and industries to recover. What's behind the abuse?
Q2: How can we better regulate these funds for post-disaster rehabilitation?
Editor:Zhang Ning |Source: CNTV.CN