Watch Video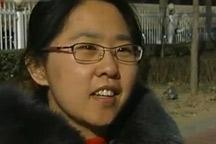 Play Video
Chinese President Hu Jintao is in the US, while his fellow citizens in China share their views on the country he's visiting now.
It's an advanced country. No matter whether you're speaking from the angle of culture or people's lives.
Sino-US ties have been witnessing both ups and downs in the past years. After Barrak Obama became US President, he's been successfully dealing with the relationship between China and the US, especially, when he paid a visit to China last year.
American people are friendly. I've been to the United States once and I received a warm welcome from all walks of life and felt their hospitality as well. They are willing to help each other even if you are a stranger to them.
Democracy. And it might be a thing that we are lacking in.
Great films with fantastic sound and visual effects. Very impressive and eye-catching. I just love them very much.
Editor:Zhang Jingya |Source: CNTV.CN