Among the slew of economic data released Thursday, the Consumer Price Index or CPI, is the indicator most Chinese citizens are concerned about. A main gauge of inflation, the 2010 CPI demonstrated much anticipated signs of easing.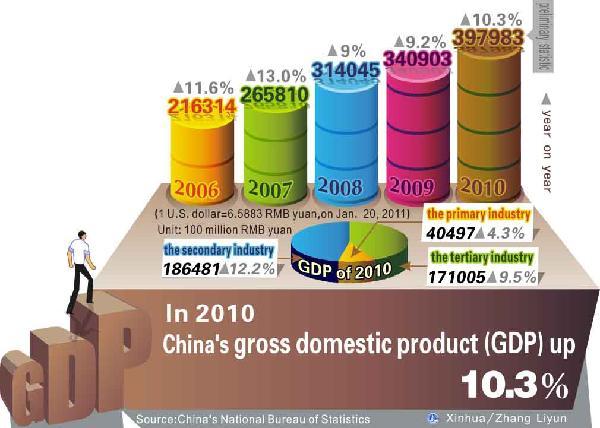 Graphics shows China's GDP growth from 2006 to 2010. (Xinhua/Zhang Liyun)
China's soaring CPI finally stepped on the brakes at the end of 2010.
The data rose by 4.6 percent in December, slower than in the previous month.
The whole year's CPI data also ends with a comparatively modest number of 3.3 percent.
Official says the hiking CPI is still under control.
Ma Jiantang, Director of National Bureau of Statistics, said, "Lots of reasons caused the CPI increase in 2010, like international commodity price hikes and exchange of currency policies. But we are confident of bringing CPI increases back to reason."
He also says the the latest figures indicate the country's measures to curb inflation have been effective.
However, the price of food, which accounts for a third of the basket of goods in China's CPI calculation, surged 7.2 percent. And rising demand for farm produce due to the upcoming Spring Festival, and price hikes in international commodities, could create more inflationary pressure.
Ma said, "The task of bringing down goods' prices in 2011 is still tough. Potential increases in the cost of work forces and land resources have added much pressure.
Inflation was and still is a major threat to China's economy. After a 2.4 percent increase in March, the upward trend of CPI lasted until November when the data climbed to an 18-month high of 5.1 percent.
China's economic figures in 2010