Watch Video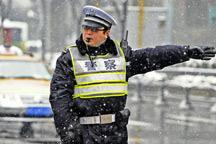 Play Video
Turning to southern China now, another round of freezing weather is continuing to wreak havoc across the region. Blizzard conditions have prompted the Central Meteorological Bureau to issue a yellow frost alert.
The provinces of Guizhou, Yunnan, Hunan, and Jiangxi, as well as the Guangxi Zhuang Autonomous Region, will experience freezing weather and record-low temperatures in the next two days. Snow up to 10 centimeters has blanketed most of the region, paralyzing many roads. Hundreds of transportation authority staffers have been deployed to de-ice and salt roads, in order to ease the perilous conditions.
Meanwhile, the icy weather is also threatening electricity supplies, as some power lines are at risk of snapping. Staffers are working extra hours around the clock to ensure reliable supplies. More than one million hectares of farm land have been affected. The Ministry of Civil Affairs has allocated disaster relief goods, such as cotton quilts, coats, tents, and folding beds to affected areas. So far, the winter blast has already affected nearly 19 million people, and led to nearly eight billion yuan in direct economic losses.
Related stories
Editor:Zhang Jingya |Source: CNTV.CN