Watch Video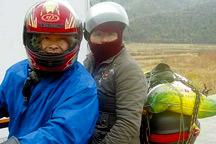 Play Video
To avoid the crowded buses or trains, a number of migrant workers have found other ways to get home before the Spring Festival. For Pan Minli, a migrant worker in Guangdong Province, standing between him and his family at home is a 680 kilometer journey.
This year, he bought a motorcycle, and set off from the city of Jiangmen, heading west before reaching the town of Mashan, in the Guangxi Zhuang Autonomous Region. Zhao Yunjie has the story.
A day before departure, Pan Minli and his wife went shopping.
They wanted to buy as much as their little arms could carry, and riding a motorbike makes it hard to transport presents.
They finally settled on two packs of candy.
Getting ready for the night drive, Pan also changed a much brighter headlight of his motor cycle. He said as exhausting as the journey is, it's much cheaper and more convenient.
After dinner, Pan called his son.
Pan said, "Are you crying? because you can't see daddy? But I'll be there by tomorrow. Do you want candy? I'll buy you candy."
It's three a.m. The couple are still up, wrapping and packing, excited to be heading home.
At four a.m., together with friends, Pan sets off.
Joining them on the road are more motorcyclists, mainly heading to Guangxi.
At Pan's destination is his excited father.
Since learning about his son's coming, he's been busy cleaning the house.
The same day Pan Minli embarks on the journey, his father is preparing the welcome dinner.
Pan Mingli's father Pan Jingnan said, "I'm buying pork and vegetables. I also want to buy fireworks."
Pan Jingnan says he hasn't cooked a real meal for almost a year. But this time, it's different.
Father said, "My boy has been driving his motor cycle since midnight. It must be very cold. I'm making hotpot. It should get him warm."
Hearing the engine, Pan Jingnan rushes out with his grandson in his arm.
After 16 hours, Pan is finally re-united with his father and son.
Sitting altogether, they are having the best meal of the year.
Editor:Zhang Jingya |Source: CNTV.CN