Watch Video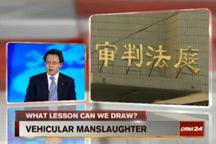 Play Video
A defendant who invoked his policeman father's name to a crowd of witnesses, after killing a young woman with his car, has been sentenced to six years in jail.
The Wangdu County People's Court said in a statement issued Sunday morning, that 23-year-old Li Qiming pled guilty to drunk driving and vehicular manslaughter. Full Story>>
For more on Li Qiming's case, we are joined in the studio by our current affairs commentator Teng Jimeng.
1. Li's reaction after the accident by shouting his father's name exploded on the Internet, with netizens criticizing the father and son of abusing power. While we strongly disagree with Li's behavior, what lesson can be drawn from the incident?
Editor:Zhang Jingya |Source: CNTV.CN