Watch Video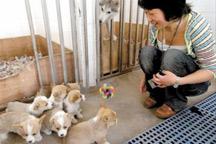 Play Video
Spring festival is almost here and people are busying travelling back to their hometowns. How to enjoy the holiday while ensuring pets will be okay can be a problem. Now, pet-boarding has become a new booming business.
Miss Han is discussing boarding details for her pet at a boarding center in Shanghai. She plans to travel during the holiday. But, due to the inconvenience of travelling with pets, the level of care her pet can receive is her major concern.
She said, "I'll be on holiday, so I bring it here."
There are many people like Miss Han in Shanghai. As the number of pet owners increases, the pet care business has flourished this holiday season.
A shop assistant said, "The business is prosperous, our reservation lists are already full."
Pets enjoy various kinds of service here: bathing,nail trimming,and even a new hairdo. But it doesn't come cheap. The price ranges from 80 to 120 yuan per day depending on the size of the animal. Extra pay is needed during the holidays. Owners have to pay at least 1,000 yuan for a holiday week. Even then some are nervous.
A pet owner said, "In fact, pets do not feel secure. I trust the service, but there are too many dogs here, negligence is unavoidable."
Veterinarians suggest people choose licensed pet boarding centers, the sanitized environment there can protect pets from cross infection.
Editor:Zhang Jingya |Source: CNTV.CN