Watch Video
Play Video
Spring Festival has a special significance this year for the residents of a town in southwest China's Sichuan province that was heavily damaged during the earthquake in 2008. After years of rebuilding, Yingxiu is taking on a new look. More than 60 percent of Yingxiu residents are able to move into their new homes for the Spring Festival.
It's the beginning of new a life in the once traumatized town.
Villagers hold traditional banquets to celebrate moving into new houses.
With a combination of modern and ethnic Qiang cultural flavors, the new houses are fully equipped with water, electricity and heat.
The villagers are pleased.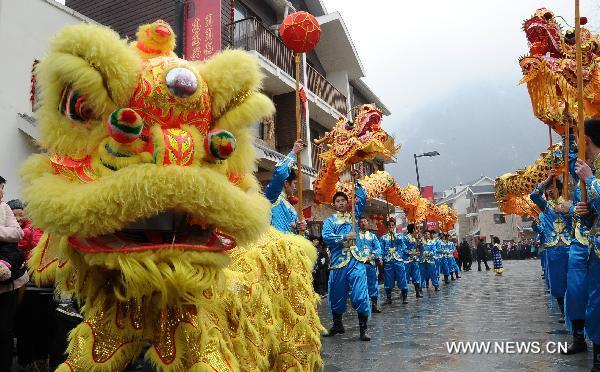 Local residents perform lion and dragon dances to celebrate the coming Spring Festival in Yingxiu Town of Wenchuan County, southwest China's Sichuan Province, Jan. 31, 2011. Local residents were happy to embrace the traditional Chinese new year, the first one in their rebuilt new houses after the devastating earthquake on May 12, 2008 hit their hometown. A total of 702 reconstruction projects were completed on Oct. 2010. An 8.0-magnitude earthquake epicentered Yingxiu, hit Sichuan and neighboring Gansu and Shaanxi provinces on May 12, 2008, leaving 87,000 people dead or missing.(Xinhua/Chen Kai)
Chen Yan, Villager in Yingxiu, said, "We are quite excited. The new homes are beyond our expectation. Before the earthquake, we live in wood houses on mountains and it was chilly in winter. Now the government has invested a lot in new homes with all equipment. We just move in to live."
New infrastructure provides as modern conveniences.
The people of Yingxiu are also eyeing their economic future. Tourism is seen as a key way to improve the local economy. Yingxiu has brought in special tourism companies to promote the tourism industry.
Liu Guangquan, Tourism Developer, said, "We aim to make Yingxiu an important transport hub for travellers heading for tourist destinations in Wenchuan."
Yingxiu Township is less than one-hundred kilometers from Chengdu, the capital of Sichuan province. The 2008 earthquake devastated the town. With help of other communities in the country, Yingxiu is well on the way to recovery.
Live cross: Highlights of traditional banquets in Yingxiu
Reporter Yin Xiang joins us on the phone from Yingxiu in Sichuan Province. Hello,Yin Xiang.
Q1: You have experienced the traditional banquets held by the locals. Could you share with us the highlights of the ceremony?
Q2: Yingxiu is shifting its focus to economic reconstruction. Tourism will be given top priority. For example, using some of the earthquake ruins as a park. What advantages does Yingxiu have and what path will it follow to boost tourism? More>>