Watch Video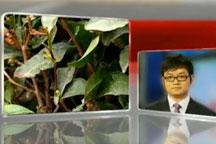 Play Video
CCTV reporter Shen Le is currently in a local village in Jufeng Township in Rizhao City, Shandong Province. Jufeng Township is a major producer of tea leaves in China. But this year's drought has dealt a severe blow to the local tea industry. Now we are joined on the phone by Shen Le for the latest. Hello, Shen Le.
Q1. What kind of damage has been caused to the tea industry there?
Q2. What measures have been taken by the local government? And how are the efforts faring, are they effective?
Editor:Zhang Jingya |Source: CNTV.CN