Watch Video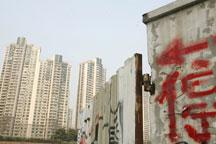 Play Video
It has been half a month since authorities in Shanghai announced restrictions on housing purchases. CCTV reporter Li Zhen finds out if the policies have been effective in curbing sales and high prices.
Mr. Zhu, wants to move into a bigger apartment. After the Spring Festival, he visited some real estate agents to see where prices stood and whether he could afford to buy.
Housing prices in Shanghai haven't changed much compared to before the Spring Festival. Lots of potential home buyers are also watching and waiting. More importantly, local families who already own a home and non-local families who can prove their length of residence, are both entitled to buy only one more home according to the new policy. According to one real state agent the measures have cooled the real estate market after Spring Festival in Shanghai.
Grace Yao, Manager of Centaline Property Consultants Ltd., said, "The number of our customers have sharlply reduced by 70% to 80%, and the volume has deceased to only 10% compared to that of last year. Besides, the homes we sold are mostly around 1 or 2 million yuan, and no appartments above 4 milion yuan have been sold since the new policy was announced earlier this month."
New housing restrictions, together with the traditionally low buying season during the Spring Festival have greatly cooled Shanghai's housing market.
Alan Huang, CEO of Shanghai Uwin Investment Consultants Ltd., said, "The new restiction policy is different from that in the past because it can prevent the rich, who might already own more than 2 homes, from buying more. In this way, speculative investment can be driven out of the market, which will greatly change the stucture of the demand-side.
Although there has been no obvious change to housing prices compared to last year, analysts say as the policy goes into effect, prices could go down.
Alan said, "I believe the home prices in Shanghai will go down in 2011, and there will be a lot of space for this decrease, only if this restrictive measure is carried out in the right way. It will be quite effective to curb property prices."
Analysts also mentioned the purpose of the new restriction policy is to curb exorbitant housing prices in Shanghai. They expect this policy to be a shorterm measure and the policy could change if prices fall to a certain level.
Editor:Zhang Jingya |Source: CNTV.CN