Watch Video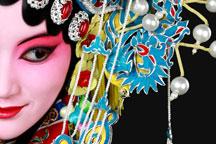 Play Video
China's ancient operas, performing arts, and other cultural legacies now have legal protections. The top legislature, the National People's Congress Standing Committee, passed a new law Friday to protect the country's intangible cultural heritage.
An overwhelming vote wrote the protection into law. Under the new legal framework, intangible cultural heritage will be transmitted from generation to generation in an orderly fashion.
The government is required to designate inheritors and monitor their ability to hand down the legacies. In cases where the inheritors lose their ability to carry out their duties as a result of age or disease, there will be someone to replace them, but the older inheritor will maintain their honor.
Sun Anmin, member of NPC Standing Committee, said, "China's thriving culture industry in the past few decades is in a large part owed to the increased tapping of intangible cultural heritage. As such, I believe it is important to emphasize rational exploitation, and protection. So we can have both effective use and protection at the same time."
And the use of China's cultural legacies is not confined to its geographical borders. The law confirmed overseas organizations and individuals are entitled to carry out surveys as long as their activities are within the scope of local administrators.
Sun said, "A country's cultural heritage is also the common treasure of all mankind. So overseas surveys of China's heritage are welcomed. But such surveys should be carried out within China's legal framework because it is our duty, and our national interest to protect our cultural heritage."
With an ancient history and diverse culture, China has a wealth of intangible cultural heritage. Just what new forms they will take and how they will develop are in the hands who love them - both Chinese and foreigners.
Xie Zheng, CCTV reporter, said, The passage of the new law is a milestone in China's protection of its intangible cultural heritage. After all, a people without heritage fails its cultural identity, and the world without cultural diversity will be one that is too dull.
Related stories
Editor:Zhang Jingya |Source: CNTV.CN