Watch Video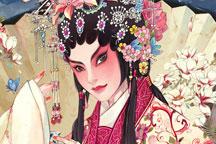 Play Video
Q1: Why is intangible cultural heritage so important to today's life that we need a national law to protect them.
A1: Well, xxx, as we know heritage is an inseparable part of our cultural identity. And the protection of cultural heritage can not end at the protection of ancient monuments and the collection of objects.
The UNESCO definition of intangible cultural heritage includes traditions and living expressions inherited from our ancestors and passed on to our descendants. This heritage of culture, such as the Kun Qu Opera and other oral traditions, performing arts, rituals, just to mention a few of the wide diversity of items, is an important link from the past, through the present, and into the future.
Q2: So if intangible cultural heritage is unique to a community of people, why does China's law allow international surveys of it?
A2: Well you're absolutely right to say that intangible cultural heritage is community based. It can only be heritage when it is recognized as such by the communities, groups or individuals that create, maintain and transmit it – other than these people, nobody else can decide for them that a given expression or practice is their heritage.
But heritage definitely does not only belong to the past, or a certain community. It is the diversity of culture that makes the world so beautiful. So the protection of cultural heritage shouldn't mean locking it up somewhere and hiding it from the public. Communication between different cultures certainly will not weaken the identity of the heritage, but strengthen its ability to engage new vitality.
Related stories
Editor:Zhang Jingya |Source: CNTV.CN