Watch Video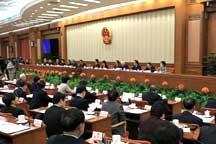 Play Video
China's newly revised Criminal Law has eliminated the death penalty for 13 economic crimes. The move comes as the country works to restructure its penalty system and better protect human rights.
Fifty-five crimes are now punishable by death, according to the eighth Amendment to the Criminal Law. The amendments were discussed and passed by the Standing Committee of the National People's Congress at a bimonthly session that closed on Friday.
The 13 crimes that have been exempted from the death penalty are mainly economic and non-violent crimes. Crimes that are exempt from capital punishment include tax fraud and "fraudulent activities involving financial bills". Also wiped from the list are offences involving the smuggling of cultural relics or precious and rare animals.
The amendment also stipulates that the death penalty will not be imposed on people who are 75 or older at the time of their trial. An exception will be made however in the case of crimes involving "exceptional cruelty". In the past, the only exemptions allowed for death sentences applied to offenders who were younger than 18 when they committed their crimes and women who were pregnant at the time of trial.
"This is the first time China has culled the number of crimes punishable by death since 1979. The reform is part of a wider effort to protect human rights and promote justice with mercy. At the same time, some other items have been added to the Criminal law, such as drunk driving and some forms of car racing."
Previously, it was only when severe consequences, such as death or injury, occurred as a result of these illegal practices that an offender would be accused of a "traffic offense" or of "endangering public safety". The changes have already received strong support from the public.
Driner, Nanjing, said, "I strongly support the alteration, because it's essential for a driver to be responsible not only for his family, but also for the pedestrians. When the law is enforced, it will definitely reduce drivers' violations of traffic regulations, especially the cases of drunk driving."
Sun Guoxiang, Director, Economic Criminal Law Research Inst., Nanjing Univ., said, "One of the functions of the Criminal Law is to safeguard social security, so listing 'dangerous driving' as a crime is an adequate measure. On the other hand, it strengthens the punishment for drunk driving. So far, those committing drunk driving or car racing receive a punishment of a 15-day detention or losing driving points. But that is not severe enough to prevent violation."
The committee also widened the scope of punishment for subversion to include the funding of domestic and foreign groups to commit crimes that endanger national security. It approved stiffer penalties for food safety violations, and made it a crime for employers to hold back workers' wages.
Editor:Zhang Pengfei |Source: CNTV.CN