Background Reading:
Backgrounder: Internet development in China
Backgrounder: Website of China's central government
Watch Video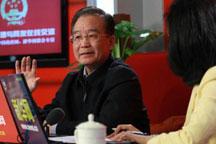 Play Video
On Sunday, Chinese Premier Wen Jiabao took part in an online chat with Chinese netizens. Thousands of questions were asked, expressing interests and concerns over property prices, inflation, the wealth gap and other social issues.
Wen Jiabao said China's development blueprint for the coming five years will emphasize efforts on the improvement of people's livelihoods. He noted the government is to set its annual GDP growth target for the 2011-2015 period at 7 percent.
Wen Jiabao also pointed out the country aims to reduce energy consumption by 16 to 17 percent per unit of GDP by 2015 from 2011 levels. The online discussion has been a tradition since 2009, ahead of the annual sessions of the National People's Congress and the Chinese People's Political Consultative Conference.
Premier Wen's online Q&A welcomed by netizens
One netizen in Beijing said "As an ordinary Chinese citizen, I hope government leaders will have a better understanding of the general public's thoughts using this way of communication. I hope they can put what people are calling for into real effect." More>>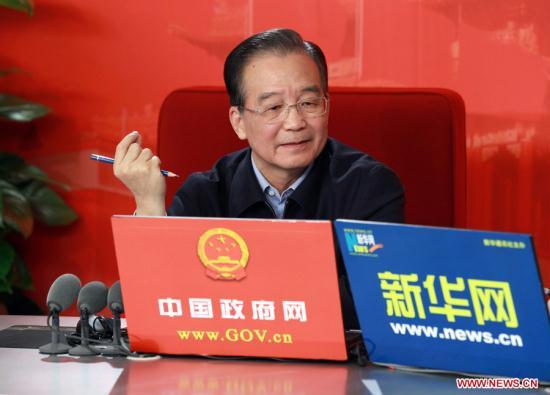 Chinese Premier Wen Jiabao gestures while holding an online chat with Internet users at two state news portals in Beijing, capital of China, Feb. 27, 2011. The two portals, namely www.gov.cn of the central government and www.xinhuanet.com of the Xinhua News Agency, jointly interviewed Premier Wen on Sunday with questions raised by netizens. (Xinhua/Pang Xinglei)
What does Premier say?
Quotable quotes from Premier Wen's online chat
-- I only have two years left for my tenure of office. I think the work in the two years will be not at all easier than that in the previous eight years, but will be much tougher instead.
-- Speaking of happiness, I want to make people live in a comfortable, reassured way, feel at ease and have confidence in the future.
-- A man (Wen himself) who pays high attention to prices every day will not allow prices to keep soaring without curbing. More>>
[Inflation]
Chinese government steps up to curb inflation
Premier Wen Jiabao said maintaining the stability of prices has always been the priority of China's economic development, as excessive increases in consumer prices would not only affect people's life but also hamper social stability. More>>
China to push forward yuan's exchange rate reform prudently, gradually: Premier
Chinese premier pledges to rein in soaring consumer prices
[Property]
Chinese Premier reiterates determination to cool property sector
Chinese Premier Wen Jiabao Sunday reiterated his determination to tame the country's runaway housing prices during his tenure, which is to end in March 2013. More>>
[Income tax]
State Council to discuss raising threshold of personal income tax Wednesday: Premier
The plan, if implemented, would benefit middle and low-income groups, Wen said in answer to a question on taxes during an on-line chat with the public.
The plan would be delivered to the National People's Congress, the country's top legislature, for review, he said, without specifying when the plan would come into effect. More>>
Higher tax threshold to assist poor on way
Premier Wen: China may raise income tax threshold
[Livelihood]
Premier Wen: China to continue to hike pension for business retirees
To address the issue, the government had increased pension by up to 10 percent every year for business retirees over the past seven years, but their wages were still relatively low, Wen said.
"We will continue to improve their treatment, especially for those engineers with high education," he said. More>>
Premier says China strives to make medical service accessible to every citizen
Premier Wen vows to protect street children
Premier Wen says China to ensure people comfortable life
[Education]
Premier Wen: China's rise lies in talents, education, not GDP
Premier Wen says China to build more high-quality rural schools
China vows no discrimination against farmer-turned workers in employment, schooling: Premier
[GDP]
Premier Wen says China eyes 7% GDP growth from 2011 to 2015
Premier Wen: China targets slower growth to focus on people
[Anti-corruption]
Premier Wen highlights fighting corruption
Public set to get larger role in the battle to beat corruption
[Reunification]
Premier Wen says he hopes to see reunification of China
[Energy]
China aims to reduce energy consumption per unit of GDP by 16 to 17 pct in next five years
China to ensure funds for water conservancy projects not embezzled: Premier