Watch Video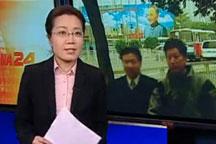 Play Video
For more discussion on Chinese migrant workers, we're joined by my colleague Liu Ying in the studio. Hello, Liu Ying.
There are three generations of migrant workers in China since reform and opening up in 1978, how have farmer-turned workers become a special social group, what's the history of this group of people.
Answer: Generally, Chinese migrant workers refers to someone with rural "hukou" but working in a city. As you just mentioned, the first generation of migrant workers appeared after the Chinese reform and opening-up when township and village enterprises developed prosperously in most coastal areas of the country.
More than a hundred million farmers quit farming and turned to work in factories then. The second tide of migrant workers began since 1992 when Deng Xiaoping, the general architect of China's reform and opening drive, made his Southern tour and reinvigorated the economic reform process.
40 million farmers came to cities to work which greatly promoted the Chinese economy. The third tide happened at the end of last century after the return of Hong Kong. Great numbers of enterprises from Hong Kong, Macao and Taiwan set up factories in mainland coastal areas, where many migrant workers wanted to settle.
Now, the new generation migrant workers are growing as the main labor force of China. They are all post 80s and 90s. Most of them don't have farming experience but have high future expectations. They are quite different from the last three generations who just pursue higher pay.
Q2. You say the new generation of migrant workers are different. They want more. What made them change and why is that?
Answer: Well, in the past, migrant workers had no choice but to work outside their home towns, because machines replaced large amount of human workers in farming. Also, working in the factories can bring good pay, that was really attractive to them at that time even without social welfare.
But now, social and economic structures have changed, there are more job opportunities in small towns. Rural residents have more choices. Some people don't want to leave their families, especially those who have children. If they can get a job at home with almost the same salary as working outside, then why bother leaving?
Some people even start their own businesses in their home towns. For those who want to leave, what they want is to be city dwellers. The new generation of migrant workers have relatively higher education, they are better connected with the society.
They know how city people live, and they want to live in the same way. Let's see some examples of how new generation migrant workers choose to spend their live.
Related stories
Editor:Zhang Jingya |Source: CNTV.CN