Watch Video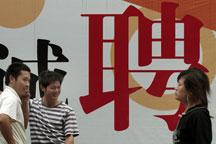 Play Video
It's a brand new life for Mr. Sun.
He used to work in a cable producing factory in Eastern China's Zhejiang Province.
Despite working outside for many years, he always cherished the thought that he may return home to work one day.
His life changed when a local factory made an offer to him.
Sun Huachao, former migrant worker, said, "Compared to the salary I got in Zhejiang, the money I earn here is almost the same. Meanwhile, I bought a house nearby, it's very convenient to travel to work."
Mr. Shan's experience is almost the same as Mr Sun's.
He has been working for four years in Southern China's Shenzhen city before coming back home in 2008.
He says the main reason for returning home is his love of his hometown.
The case of the two young men is quite common.
According to statistics from the local government, more residents are choosing to work in their hometowns now.
Zhang Kaihong, Head of Human Resources Management Service Center, said, "More than 80 percent of residents worked in their hometown last year, that's about 570-thousand people. That is a sharp contrast to figures from previous years."
The increasing number of migrant workers returning home is echoed by a growing number of factories moving from the coast to inland areas.
Due to rich resources, lower labor cost and a convenient transport network, inland regions are attracting more manufacturing industries.
As for the issue of how to encourage more locals to work in their hometown, experts are giving their advise.
Lv Zhihua, Department of Human Resources and Social Security, said, "I think one way to encourage locals to work at home is to increase their salaries, and improve public facilities. In this way, more people are willing to stay at home if there is no difference between working in their hometown and coastal cities."
As for central China's Henan Province, during the past five years, it has attracted foreign investment of 20-billion US dollars, increasing nearly 40 percent.
Meanwhile, investment from other parts of the country totaled nearly 100-billion yuan, also a 40 percent increase.
Experts say prospects are bright for inland provinces and regions to enjoy a long-lasting economic boom.
Editor:Zhang Jingya |Source: CNTV.CN