Watch Video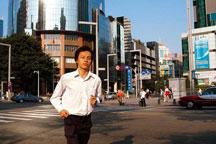 Play Video
More rural area residents are choosing to stay where they are and start their own businesses. However, those going out to find jobs are also asking about working conditions in their cities of employment.
Fang Yanan, from a village in Xinmi city in Henan Province,has worked in Shenzhen for four years. She came back home to give birth to a baby last year. Now she's going back with her husband to find jobs in Shenzhen,leaving her baby at home with her parents.
Yanan's father carried stones in the mountain. It was a dangerous and tiring job requiring nothing but strength. He lost his job last year because it became forbidden to exploit the mountain. Now he works in a fire-proof material factory.
Fang Guoyou, Fang Yanan's father, said, "I don't care if the job is dangerous or not, I don't care about anything if only I can make money. I have to support my family."
Like her father, Yanan is a migrant worker. Unlike her father, she asks more for work.
Fang Yanan said, "I want social insurance, for one. If the treatment and the working environment is good, less earnings would be Ok. I want a safe and healthy job. I will never sacrifice myself for a higher paid job."
New generation migrant workers are the main force of the labor market. According to figures provided by Zhengzhou municipal authority in Henan province, more than 60 percent of 700 thousand migrant workers are post 80s and 90s. Different from their father's generation, they pursue city dreams instead of just working for money.
Zhang Kaihong, Director of Zhengzhou Human Resource Management Center, said, "The aim of the new generation migrant workers who go out to work is different from that of their fathers' generation. They pay much attention to spiritual life and living standards. They want to change their social status and become a member of the city, instead of travellers."
Apparently, a softer environment, better medical provision, education, and career training services, and wider public resources coverage are more attractive now than higher earnings for the new generation migrant workers.
Editor:Zhang Jingya |Source: CNTV.CN