Watch Video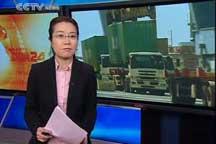 Play Video
For more on the tenth anniversary of China's accession to the WTO, we are joined by my colleague, Liu Ying, in studio. Hello, Liu Ying.
Q1. China is considered to have benefited from entering the WTO why is that?
LY: Well, China's WTO accession ten years ago is seen as a significant milestone for the country's social and economic development. The past decade was seen the fastest and best development period for the country. Both of China's import and export volumes expanded more than four fold during that period. The country's GDP more than doubled. At present, China is the world's second largest economy and the No 1 exporter. China is also the world's second largest and the fastest growing importer. Chinese enterprises have also seen their competitiveness greatly enhanced during the past decade. Take overseas investment as an example, the figure was less than one billion US dollars ten years ago. But by the end of 2010, China's overseas investment surged to nearly 60 billion US dollars.
Q2. Can you tell us more about China's fulfilling of its WTO commitments?
While China has benefited from its entry into the WTO, the country has also strictly fulfilled its WTO commitment in many sectors such as industry, agriculture, service and in areas of IPR protection, increasing market access and transparency. China's average tariff level was lowered from more than 15 percent to less than 10 percent. The country has opened more than 100 service trade sectors and modified more than three thousand laws and regulations to ensure they are in line with WTO rules.
But as China's economy integrates more closely with the rest of the world, the country has also become subject to international trade disputes, especially after the international financial crisis. Statistics show in 2009, China's exports accounted for less than 10 percent of the global total. But, the country accounts for 40 percent of its anti-dumping cases, 75 percent of anti-subsidy charges, as well as 43 percent of trade investigations. This has caused severe losses to Chinese exporters and is considered a serious issue for both the government and business.
2011 marks ten years since China joined the World Trade Organisation. To mark the occasion, Chinese officials and business executives gathered at a forum in Beijing. <Full story>
Editor:Zhang Pengfei |Source: CNTV.CN