Watch Video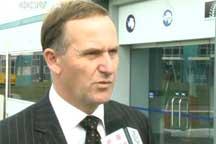 Play Video
A week after the earthquake hit New Zealand's second largest city, Christchurch, the country has observed two minutes of silence to commemorate the victims.
Prime Minister John Key, has expressed his sorrow for the missing Chinese students and also his appreciation of the search efforts by the Chinese rescue team.
John Key, New Zealand Prime Minister, said, "First, we are very fearful about the lives of those Chinese students if they had lost their lives as we fear they have.. we know they are the most precious things in their families. The Chinese rescue teams are being magnificent. They worked incredibly hard.You should be very pride of them that, they are very brave and being working on difficult conditions."
The Prime Minister also says that the government will take the relatives of the missing Chinese students to the site of television building to allow them to express their sorrow. Meanwhile, he is urging New Zealand police to speed up the identification of the bodies. The New Zealand government will also pay for funerals and other costs.
Editor:Zhang Pengfei |Source: CNTV.CN