Watch Video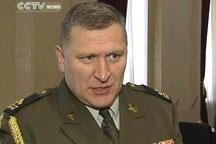 Play Video
With the release of China's Defense White Paper, the country's modernization and its new policies in military development are drawing much attention worldwide.
On Thursday, more than 100 military attaches from 80 countries attended an introduction of the paper arranged by the Ministry of National Defense.
Briefing foreign military attaches on China's National Defense policy is a routine practice of the Ministry. And a key part is clearing up doubts.
Thosmas Siegel, German Deputy Military AttachÉ, said, "The white paper says there are three stages for military development. And by 2010 you finish the first stage. How do you evaluate the situation now? "
Qian Lihua, Director General, Info. Office, Ministry of Nat'l Defense, said, "I used the words 'basically' and 'comparatively' when talking about this issue. The PLA's defense capabilities have made remarkable progress; however, we're also confronted with difficulties and problems. We can only say we basically realized the first step."
Alexey Lipilin, Russian Defense AttachÉ, said, "The paper says China will strengthen new type of combat capabilities. Could you tell us what does these new capabilities refer to?"
Qian Lihua, said, "To build a informationized armed forces and to win regional wars under circumstances of informationization is the guideline set by the Central Military Commission of the PLA. We have made some achievements in this regard. But there's still a long way to go to reach the goal."
Tan Soon Lee, Singaporean Defense AttachÉ, said, "I think this is more focus on China's relationship with the neighbors and partners, and some of its key focus on like strengthen military legal system and rules and regulations."
Claes Nareus, Swedish Defense AttachÉ, said, "The white paper is very comprehensive, which reflects the greater transparency, the approach of the PLA is moving forward."
Drago Horvat, Croatian Defense AttachÉ, said, "You have excellent military forces, you are growing and pays great attention to quality. Sooner or later you will have first class military."
"This year for the first time, foreign attaches get a copy of the white paper at the same time as journalists. The Chinese Military hopes to create greater openness as it becomes a larger player on world stage."
China's defense: New role of the PLA
The White Paper illustrates the Chinese People's Liberation Army's new roles, while re-assuring its defensive policy. <Full story>
Why China's military expenditure is moderate
Yang Yujun discussed China's security situation, and explains why the country's military expenditure is moderate. <Full story>
Editor:Zhang Pengfei |Source: CNTV.CN