Watch Video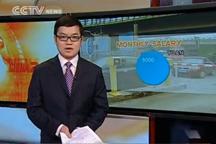 Play Video
For more on the government's effort to get cars off the capital's over crowded roads, we are joined by our reporter Shen Le in the studio.
Q1.Good evening Shen Le. How much of an impact will the new restriction have on the average commuter? Will it be effective in curbing the number of vehicles on the capital's streets?
SL: Let's image a white collar worker, lets call him Mr. Li who lives on the east side of the city and has to drive downtown everyday to work. He makes roughly 5,000 yuan or 730 US dollars per month, that's a bit above average. But after April 1st, he will have to pay 115 yuan per day for roadside parking.
That's 2 thousand and 300 yuan a month, almost half of his salary. Simple mathematics really, if Mr. Li insists on driving to work, he'd have very little money left for anything else. So the only feasible commuting option is the subway. Its crowded, especially during rush hour, but at least it beats personal bankruptcy.
Q2.Indeed, those high prices are certainly going to persuade many to give up driving. Parking fees aside, what are some other measures being adopted to control traffic? And when considering all of them, what's it going to be like to drive within the inner city?
SL: There are quite a few measures that have already taken affect. Nearly all of them have been understandably, quite controversial, because these policies affect nearly everyone, drivers and non-drivers alike. First there's the driving ban according plate numbers and the day of the week.
Some questioned its legality, saying it's not even constitutional. But it did work when it first came out. However, the rapid increase of new cars hitting the roads soon dissolved any positive effects. To limit the flood of new cars, authorities introduced a lottery system which allows only 240 thousand new cars to be registered each year, about a third of 2010's numbers.
So if you want to drive, you have to win the lottery first, then check your plate number to make sure you're allowed to drive. And then fire up the engine, only to find yourself sitting in the city's epic traffic jams. And when you finally drive home after a day's work, you have worry about a pocket full of parking receipts. Imagine the life of a driver now, Dong Ning.
Dong Ning: That's certainly not a nice picture for drivers. But hopefully, these stringent measures will free more space on the roads. Thanks for that Shen Le.
Editor:Zhang Jingya |Source: CNTV.CN