Watch Video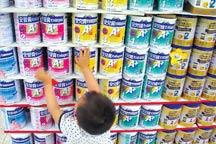 Play Video
A series of milk scandals, that have been cropping up since 2008, have tarnished the image of China's dairy producers. Authorities have ramped up supervision to help Chinese brands win back market shares, and more importantly, consumers' trust.
The tainted milk scandal broke in July 2008 when 16 infants in Northwest China's Gansu Province were diagnosed with kidney stones. Parents say all 16 infants were fed on milk powder produced by Sanlu Group, one of China's largest dairy firms.
Investigations then found that all the companies' products contained melamine to increase the milk's protein levels. A series of follow ups revealed that the problem also existed in products from almost all of China's dairy companies, including the largest Mengniu and Yili group.
This milk scandal killed at least 6 infants and made 300 thousand children ill across the country.
The authorities then tightened up supervision in milk production and increased punishment. This led to the Sanlu group going out of business and 2 workers being sentenced to death. Since then, the country has started to check illegal substances in all its domestic dairy products.
2 years after the tragedy, concerns over milk safety resurfaced after a case was reported where a four-month old baby girl started to grow breasts. Another 3 female babies in Central China's Wuhan, Hubei Province were found to have the same growth problem. But their parents doubted it was caused by Shengyuan milk powder, as their babies had been fed with the brand since birth.
And according to the following survey, the growth development had nothing to do with the milk powder. But the case shows that Chinese consumers had still not fully recovered from the 2008 milk scandal. Chinese mothers would rather flock to Hong Kong, Macao and foreign countries to purchase baby formula milk products than buy Chinese brands in the downstairs supermarket.
These cases have triggered the strictest crackdown on dairy products to date. Since January, at least one third of the country's milk companies have been kicked out of the market. Officials ensure dairy products from the qualified Chinese companies are as safe as the foreign ones.
Related stories
Editor:Xiong Qu |Source: CNTV.CN