Watch Video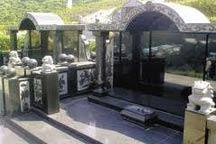 Play Video
While most Chinese people are worrying about rocketing house prices, many are now burdened with another concern. As Tomb-Sweeping Day approaches, the price for burial places is increasing dramatically. CCTV reporter Wang Tao takes a look at the situation in Guangzhou.
Jinzhong Burial Place is an authorized public graveyard in Guangzhou. The tombs on sale here start at 27,000 yuan, with the average coming in at double that. The price includes the cost for land, tomb-making and supervision for the first 20 years. Costs depend very much on location.
Another graveyard, called Wananyuan, offers traditional tombs ranging from 20,000 to 60,000 yuan.
One tomb salesperson in Guangzhou said "You can't buy a tomb without 30,000 yuan or more. Tombs are very expensive now. House prices have risen as have tombs."
In Guangzhou, tombs are becoming more and more expensive from urban areas to downtown. In the newly-built Yongjiu Graveyard, prices have soared to 60,000 yuan per tomb. According to staff, almost three years ago, the price was 10,000 yuan -- now the price is six times that.
According to Guangzhou municipal authorities, the price for new houses was about 13,000 yuan last year -- meaning tomb prices have already surpassed the real estate price guide. The rising prices are attributed to the limited land for graveyards.
One tomb salesperson in Guangzhou said "The price has been rising annually. And we adjust the price every quarter. With limited land in the context of inflation, it is natural the tombs become more expensive."
Just like the housing market, some people have already begun to hoard tombs for speculative purposes. The Guangzhou municipal government will probably have to allocate more land for graveyards, while regulating the market.
Editor:Xiong Qu |Source: CNTV.CN