Watch Video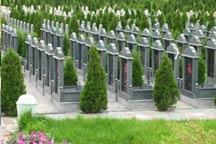 Play Video
Shanghai: No resting spots remaining in 8 years
With Tomb-Sweeping Day just around the corner, the topic of graveyard shortages comes to the fore. In Shanghai, there are only 130 hectares of land allocated for burial places. With 100-thousand city residents dying every year, experts say the municipality will have no resting spots remaining, in just eight year's time.
Shanghai's tranquil cemeteries have been making headlines recently, due to a lack of space for families to bury their loved ones.
But this is not a new problem.
Eight years ago, many believed Shanghai would face such a graveyard crisis as this one.
Gov't promote burying loved ones at sea
The local government is now encouraging the city's residents to minimize the size of their graves to solve the problem.
This has lead to some non-traditional measures being adopted, such as burying loved ones at sea - a move encouraged by Beijing's municipal government.
But residents are not accustomed to this new burial option.
One local resident said "I want to be buried in the same way as my parents, and I don't know about the new measures."
In this cemetery, staff members are suggesting a different burial method in a bid to save on space. But it's falling on deaf ears in Shanghai, as families just don't want to bury their relatives in smaller, low-priced graves.
Yi Hua, China Funeral Association said "Residents feel that if choosing the space-saving graveyards, others will think their family is not rich enough to afford the price of the traditional one. They always want to provide the best to those passed away."
Despite Shanghai's residents wanting to stay with tradition, they are being encouraged to alter their ways.
Expert: Change traditional thoughts, think more about environment
Wang Hongjie, Head of Shanghai Funeral Association said "I hope Shanghai residents to change their traditional habits. They have to think more about the environment, and the generations to come."
Some say the affection of residents for their loved ones doesn't depend on how large the grave is and that what is immortal is the memory in the heart.
Tomb prices soar at China's graveyards
While most Chinese people are worrying about rocketing house prices, many are now burdened with another concern. As Tomb-Sweeping Day approaches, the price for burial places is increasing dramatically.
Editor:Xiong Qu |Source: CNTV.CN