Watch Video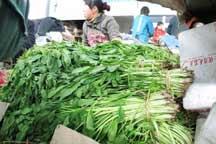 Play Video
Very small traces of radiation from Japan's Fukushima nuclear plant have been detected in vegetables planted on the Chinese mainland. But according to China's Ministry of Health the amount is "not harmful to human health."
Sample inspections conducted on Tuesday found low levels of radioactive iodine 131 in spinach planted in Beijing, Tianjin and Henan Province.
Spinach was examined as it attracts radioactivity more than other vegetables. The amount of radioactivity detected is far below the safety standard prescribed by the Chinese authorities, and will not cause harm to people's health.
Also the radioactive material being found in spinach is associated with the recent precipitation. According to experts, the radioactive material can be washed away. The Chinese authorities say the nuclear leak in Japan will not adversely affect the environment or people's health in China, and no protection measures are needed.
Su Xu, director of China Center for Disease Control, said, "In fact, when someone eats 2,200 kilograms of spinach, the total radioactive level in the body is equal to that absorbed in a CT check. So it is a trace amount. And spinach is usually washed two or three times before being cooked, which could effectively wash off most of the radioactive materials. Generally, 50 percent of radioactive materials should be removed after the first wash and almost all radioactive materials should be cleared off after washing three times."
Related stories
Editor:Zhang Ning |Source: CNTV.CN