Watch Video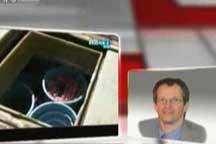 Play Video
Very small traces of radiation from Japan's Fukushima nuclear plant have been detected in vegetables planted on the Chinese mainland. But according to China's Ministry of Health the amount is "not harmful to human health." Full Story>>
For more on the radioactive contamination, we're joined on the phone by food safety expert Dr. Peter Ben Embarek.
Q1: Contamination from Japan's stricken nuclear complex seeped into the food chain, causing widespread fears in Asian countries. There is no doubt that the disposed radioactive water Japan dumped into the sea played a major role. Some argue that by doing so, the Japanese government lost their conscience. What is your opinion?
Q2: What preventative measures should neighboring countries take to ensure the safety of their people and their food products? And what can the public do?
Editor:Zhang Ning |Source: CNTV.CN