Watch Video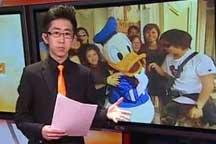 Play Video
For more on the Shanghai Disneyland, we are joined by my colleague Zhang Bo, who has been doing some research.
Q1. How are other Disneylands operating right now?
A1. Well, it's a mixed picture. Over the past two years, some have reported profits. Some don't, mostly because of the world financial crisis. When your hands become tight, sight-seeing is no longer a priority.
So, "vacation" becomes "staycation" -- meaning, staying at home. Let's look at some parks for example. The first overseas Disneyland Park, reported a 40 percent net profit increase in 2009.
The Euro Disney, opened in 1992 in Paris received over 13 million visitors in 2009, making it the most visited theme park in Europe. Even so, it still posted a net loss of sixty-three million Euros.
The one in Hong Kong so far hasn't reported any profit yet. But, its annual loss is narrowing and the business is expected to turn profitable FAIRLY SOON, as visitor numbers rise and the park expands.
Q2. With many references in hand, what expectations do the authorities hold for the Shanghai Disneyland?
Well, understanding what it can bring to Shanghai or even the whole Chinese mainland is not the same as calculating its ticketing profits.
Although the undergoing theme park in Shanghai will only cover an area 1/26th of that in Orlando, this time, this Mickey mouse is well prepared to knock at the door of a country with 1.3 billion people, which suggests probably the hugest market in the world. Survey shows one dollar coming from the entrance fee may bring 8 dollars of extra consumption.
If that's the case, the Shanghai Disney theme park can boost related service industry as much as 5 million yuan, with 50 thousand local working opportunities, and 3 to 5 million more tourists to the locality every year. A lot of exciting numbers are there. Right?
So all in all, industries like tourism, hotel, restaurants, sightseeing, and public communication can all benefit a great deal with this mouse hopping in. And since we are talking about things in China, one thing that is most increasingly expensive would easily come to our mind--Skyrocketing property prices.Till now, the housing price of places around the park has already doubled. But again, it's all expectations. And we do see those unhappy stories. So good operation and patience, that's what we need. And finger crossed for this one.
Editor:Zhang Pengfei |Source: CNTV.CN