Watch Video
Play Video
The Walt Disney company has begun construction of it's new theme park in Shanghai, following ten years of negotiations with the Chinese government.
Disneyland Shanghai is the first Disney project on the Chinese mainland.
The park's initial phase set to cost 3 POINT SEVEN billion US dollars, and is expected to open towards the end of 2015, boosting tourism across the region. The site is set amongst the city's iconic Pudong skyline, on the east bank of the Huangpu River.
It will include the theme park, two hotels, a lake, and a shopping district. Disney has also agreed to incorporate Chinese culture ino the park.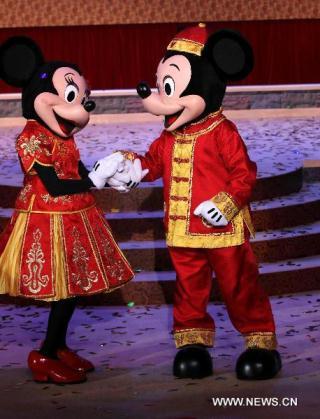 Mickey mice are seen during a ceremony held
to mark the start of construction work on the
Shanghai Disneyland in Shanghai, east China,
April 8, 2011. Construction work on the Shanghai
Disney resort project began Friday. The Shanghai
Disneyland theme park is scheduled for completion
in five years. Supporting projects, including two
hotels and retail and catering facilities, will
also be built at an estimated cost of 4.5 billion
yuan. (Xinhua/Ren Long)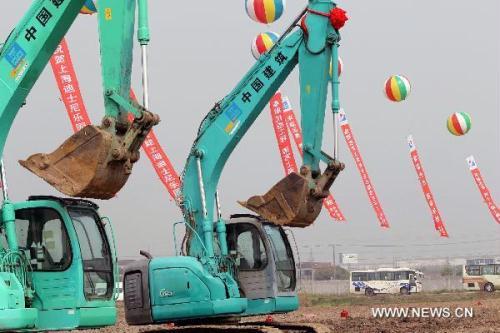 Excavators are seen at the site where a ceremony is held to mark the start
of construction work on the Shanghai Disneyland in Shanghai, east China,
April 8, 2011. Construction work on the Shanghai Disney resort project began
Friday. The Shanghai Disneyland theme park is scheduled for completion in
five years. Supporting projects, including two hotels and retail and catering facilities, will also be built at an estimated cost of 4.5 billion yuan.
(Xinhua/Ren Long)