Watch Video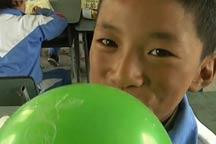 Play Video
It has been nearly a year since the 7.1 magnitude earthquake hit Yushu Tibetan Autonomous Prefecture, Qinghai Province in northwestern China on April 14th. The disaster brought catastrophic losses to local children. CCTV reporter Mike Weber takes a close look at an orphan school there, the first school to open just three days after the disaster.
Smiles are on the face of every child in the classrooms of Yushu Orphan School. It was severely damaged in the quake, and is also the new home for more than one hundred children, all of whom lost their parents in the quake. Support from the community and government has been tremendous here.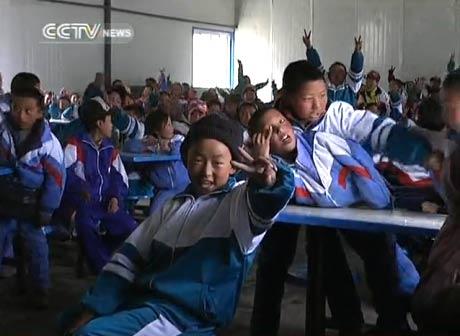 Smiles are on the face of every child in the classrooms of Yushu Orphan School.
"Where are those shoes from?"
"We bought them ourselves."
"Where is the money from?"
"Donations."
"Do you like them?"
"Yes."
"Do they fit?"
"Yes."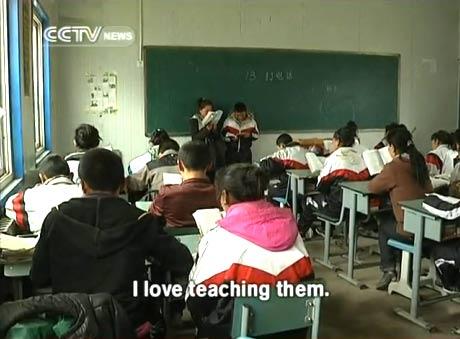 Students are having class at Yushu Orphan School.
Jiangba is a first grade student. He seems interested in our camera lens.
"What do you like most?"
"Camera."
But just as the cameraman is about to take a picture for him, he runs away coyly.
A new canteen has been set up in the school, and all student can have three meals here. A recipe is hanging on the wall. Staple meals with vegetables and meat are simple, but nutritious. Children still remember every face who once gave them a hand. They are learning to be grateful, and look ahead. Young Ji has been teaching here for ten years. Trying to walk out of the shadows of disaster, she derives strength from the children.
Young Ji, Teacher of Yushu Orphan School said "I'm so happy that the children can resume classes. I love teaching them. I want them to be happy. I love them so much."
"Do you love your teacher?"
"Yes."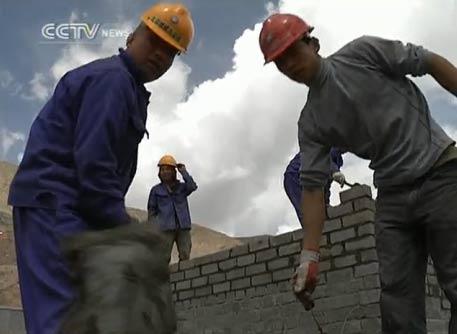 A new school building is under construction
A new school will be finished in less than a year's time. The three-floor school can accommodate eight hundred orphans at the same time and provides nine years of compulsory education.
Nima, President of Yushu Orphan School said "The army is helping us build another school. It will be finished by August. We can move to a new school in spring next year. Donations from the Red Cross, the China Charity Federation and the local government can assure operations continue for the next one to two years."
There will be "a new school, a new home", as the slogan reads in the makeshift school. It is a belief deeply rooted in the children's minds here. Donations from all over the world have allowed these children to return to their normal lives. Once again the old saying rings true that if there is love, there is hope.
Editor:Xiong Qu |Source: CNTV.CN