Watch Video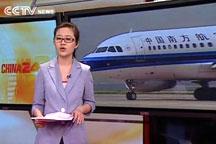 Play Video
For more on carbon emission fees, we're joined by my colleague Yuli in the studio.
Q1: Do you have any details on how the EU is going to charge carbon emission fees to Chinese airlines?
Yes. The China Air Transport Association provided me with some figures on that. There are 11 airlines in China that fly to Europe, but another 22 airlines are also included in the plan. This means,
if they start to fly to Europe after 2012, they will also have to pay carbon emission fees to the EU. If we take a look at this graphic,it shows how much carbon allowance the EU allocates to each airline.
Air China has the most flights to Europe, so it gets the highest allowance, 1.24 million. Jade Cargo International ranks the second. It's a joint-venture of Shenzhen Airlines and Lufthansa Cargo, a German company. Meanwhile, China Eastern is on almost the same level as Jade Cargo.
Let's see how much carbon credit the airlines will have to buy. China southern will need to buy the most, while some cargo airlines won't even use up their free allowance. Taken together, Chinese airlines will pay more than 700 million yuan in carbon emission fees in 2012. This cost will increase year on year and in 2020 they can expect to pay more than 3 billion yuan.
Related stories
Editor:Zhang Pengfei |Source: CNTV.CN