Watch Video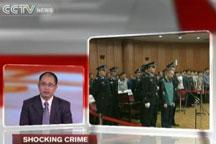 Play Video
And to answer all these questions, we are joined in the studio by our current affairs commentator Professor Liu Baocheng.
Q1, One thing we cannot overlook is the number of people in the court. It is reported that hundreds of university students were invited to the court to hear the judge's verdict, including those from the institute Yao Jiaxin attended. What do you think were the reasons behind this move?
Q2, Most people were shocked and speechless when they heard Yao Jiaxin's explanation for committing the murder. For fear that the peasant may badger him and his family endlessly for compensation?" What do you think are the reasons for such a distorted excuse? Have you heard of any similar situations?
Editor:Zhang Pengfei |Source: CNTV.CN