Watch Video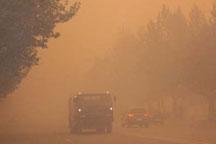 Play Video
A strong sandstorm has hit some parts of Northwest China's Xinjiang Uygur Autonomous Region since Thursday morning. As the strong wind continues, the sandstorm is spreading to the region's neighboring areas.
The most unwelcome guest visited Aksu, a city in the Autonomous region's west on Friday morning. The sandstorm covered the entire city with sand and dust. Residents
have to cover their heads with clothing to cope with the grit. Visibility in most parts of the city is less than 100 meters.
Resident, Aksu City, said, "The sand storm and winds are so strong that we cannot see the road at all. It's inconvenient to carry kids, we are worried there could be accidents. "
Xingjiang's neighboring province of Gansu is also hit by the sandstorm. Temperatures in the provincial capital Lanzhou dropped by 10 degrees Celsius overnight.
Sandstorms also caused traffic jams in downtown areas bringing inconvenience to local residents.
The strong sandstorm is also affecting spring plantations. In Inner Mongolian Autonomous Region, the sharp temperature drop has caused frost in the worst hit areas.
Editor:Yang Jie |Source: CNTV.CN