Watch Video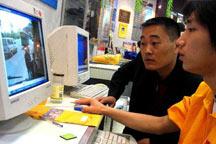 Play Video
The May Day holiday not only saw an increase in tourism, but also a growing number of computer users falling victim to a new virus. Known to lurk in online shopping websites, it gains access to your bank account and empties it, leaving you broke.
Miss Zhang used to shop online due to her hectic schedule. Despite being an experienced Internet user, her computer was still attacked by the virus.
"I asked the seller to send a picture of the bag. I liked it, so I bought it, but I hadn't received it after a few days. Later I found out there was no transaction record on the website. A computer savvy friend of mine said my computer has been attacked."
Miss Zhang's experience may stir sympathy - and anger - among many online users.
About 8,000 Internet banking customers have been attacked each day since the start of year, according to Qihoo360, a security software provider in China.
The culprit is a new virus called the "super online banking virus," which targets third party payment platforms, frequently used by Chinese online shoppers.
The virus is camouflaged as Word or pictures files.
Wang Ping, Anti-virus Researcher of Qihoo 360 said "If you meet a malicious seller on the Internet, he will send you a product's picture attached with the virus. When you double-click them, the virus begins operating."
This is how simple it can happen.
"I top up my cell phone with 500 yuan. The order number is altered after the computer has been attacked, because the payment link has been changed. The money will then be transferred to the hijacker's account."
The expert says daily precautions are vital.
To make sure you don't become Internet prey, here are some tips:
-Professional anti-virus software is a must
-Users need to upgrade software regularly
-Set up passwords for online accounts, especially banking
-Check your Word files
-And don't click links and files sent from an unfamiliar account or stranger.
Editor:Xiong Qu |Source: CNTV.CN