Watch Video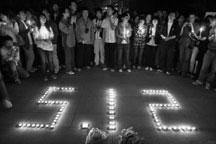 Play Video
Three years later, memories of the tragedy are still fresh in many people's minds. After the quake struck, images of desperation, rescue and survival moved the nation. Let's review those memorable days.
May 12th, 2008. 2:30 pm, a 8-magnitude quake hit Wenchuan.
"We have to get out of here."
"The quake went on for at least six minutes. It was frightening."
People realized it's the deadliest quake they've ever seen.
In less than half an hour, the first group of 9-thousand rescuers headed for the quake zone.
In two hours, Premier Wen Jiabao arrived to direct rescue efforts.
Premier Wen Jiabao, said, "As long as there is a silver-lining of hope, we must put in 100 times our best efforts to save lives. Never give up."
Hundreds of thousands of rescuers marched into the quake hit area. Troops reached the isolated epicenter in 33 hours.
"We're rushing to Wenchuan for rescue operations."
Rescuers raced against time to search for survivors.
"Anybody down there?"
"I'm very worried now. They've found survivors. They need our equipment, which can cut metal and force open cracks."
At least 30-thousand survivors were pulled from under the debris.
Miracle survival stories were witnessed.
What's the date today?
May 17th.
I've been trapped here for 6 days.
Thanks for giving me a chance for a new life.
"I've been waiting for you. I knew you would come to save me. I'm happy that I'm still alive. Don't worry about me. Thanks for coming to save me."
Relief materials flooded in.
Love and care poured in from across the nation.
"Maybe my donation of blood can help save someone's life. Maybe only with my blood can he or she survive."
A week after the quake, a national mourning.
Editor:Zhang Pengfei |Source: CNTV.CN