Watch Video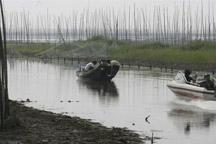 Play Video
East China's Hubei Province is one of the areas suffering from the drought. Our reporter, Shen Le, has been finding out how badly fisheries there have been affected.
This is what's left of the seventh largest freshwater lake in China.
And this is the owner of these fish ponds near Honghu Lake.
According to Li Liangjun, this dry spell is unprecedented.
Li Liangjun, a fish farmer from Dianhe county,Hubei Province said, "I was born in 1967, but I haven't seen anything like this. Even my father hasn't seen anything like this. There's very little water in Honghu Lake. It hasn't rained for nearly three months."
This vast grassland was once one of Li's fish ponds. Now, even the grass is starting to wither.
Shen Le, from Dianhe county,Hubei Province said, "It's usually the raining season here in Hubei, but…"
As the drought persists, water levels are dropping fast, which will more than likely lead to many fish dying.
Li Liangjun comes almost everyday to inspect his ponds. It's a disappointing experience.
At a nearby trench, motorized pumps are funneling water into ponds on higher grounds. But the source is about to dry up.
Zou Haibin, the secretary of Dianhe town party committee said, "Production in more than 8 thousand hectares of fishponds has been severely damaged. At least 80 percent of all the harvest will be lost. The government is trying everything to keep the fish alive, but if it still doesn't rain in the coming week, the remaining ones may die."
In the village, Li Liangjun is mending his fishing nets.
The drought has cost him 600 thousand yuan. But the fish farmer is staying put, preparing for the harvest that may never come.
Related stories
Editor:Wang Xiaomei |Source: CNTV.CN