Watch Video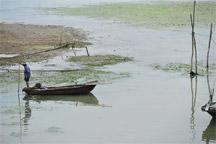 Play Video
Aquafarming is also an important industry in Jiangsu Province. As Zhang Ni reports, the drought is causing a drain on the industry.
Fishermen are gloomy because crayfish this year are smaller and fewer.
Lower water levels are understood to be the cause.
A fisherman said, "It rained less this year, so the crayfish are growing slower than normal. And the number is also smaller."
Crayfish cultivation is the most important aquaculture industry in Xuyi county, with 100 thousand people working in it.
Zhang Ni, from Xuyi county, Jiangsu Province said, It's only in two weeks until the Crayfish Festival - the county's most important annual event. But with the crayfish one third smaller than normal, it's not going to be a big celebration.
Hu Xiaoqiu, production manager from Xuyi River Red Crayfish Production Base said, "The drought mostly affects the spawning rate in our base. Usually one female crayfish will have 600 to 700 spawn. But this year, 200 spawn per crayfish is lucky for us."
This is the country's biggest crayfish production base. As the Huaihe river is its main water source, it's suffering due to the river's reduced water level and quality.
It's a worse story for local, independent fishermen. As they can't control water quality, their crayfish production has shrunk by 70%.
Lu Wei, executive general manager of Xuyi River Red Crayfish Production Base said, "You see, the water level used to be 1.5m above. Now the level is decreasing everyday. The water quality is down too. Luckily our base has advanced equipment to improve water quality, But for those individual fishermen, this year is a disaster."
It's early morning in the fish market in Nanjing.
Fish sellers are busy trying to make a sale. But it's tougher than usual.
A crayfish seller said, "Not enough supply!! The lakes are all dry."
"It's much more expensive than last year. We have to do this because we don't have enough supply."
They claim the price has nearly doubled since last year, but the production is only half.
Zhang Ni from Nanjing, Jiangsu Province said, Other than crayfish, the price of fresh water aquatic products have all risen by over 10%, compared to last year.
If the drought continues, production will go on reducing, driving up prices even more.
Editor:Wang Xiaomei |Source: CNTV.CN