Watch Video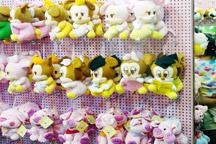 Play Video
With Children's Day approaching, parents are planning on what toys to buy for their children. But the latest inspection on the quality of toys may cause parents to think twice about what to buy. Testing has revealed that many toys hide potential dangers for kids. Jie Bai explains.
Nearly 250 kinds of plastic and electronic toys have been sampled and eight percent of them have been deemed unsafe.
Inspectors say most of the problems come from small parts.
Zhang Jinhua, the quality inspector of Fujian Inspection & Research INST. For Product Quality said, If the parts can fit into this machine, they're what we call "small parts". They shouldn't be in toys for kids under the age of three.
Despite their size, these small parts can pose a significant hazard to young children.
Hu Xiaohong, the pedistrician of NO.1 Attached Hospital to the PLA General Hospital said, I remember one case. A kid got tracheitis. No matter what medicine we used, he just wouldn't get better. Later we found a small piece of plastic from one of his toys was trapped in his windpipe. It had been the cause of his suffering. We've encountered a lot of cases where kids have swallowed small parts like wheels from toy cars.
On the other hand, bigger does not necessarily mean safer. This car's brakes failed to pass the test.
Lu Yejian, the quality inspector of Fujian Inspection & Research INST. For Product Quality said, It continues to accelerate on this slope, which is unsafe. Children won't be able to handle it if they're playing on a real slope.
In the most severe cases, lead has been detected in some of toys.
When young kids are playing with toys, they are likely to put them in their mouths or even chew on them. After that, they might just head to meals without even washing their hands. The risks of lead poisoning, swallowing small parts, and inadequate safety standards mean parents might want to think twice about what toys they buy for their kids.
Related stories
Editor:Wang Xiaomei |Source: CNTV.CN