Watch Video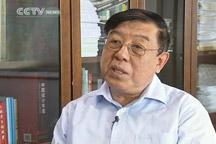 Play Video
One in three Beijing residents are not originally from Beijing. Most of them now lives in suburbs. But, unlike other cities, the education level of migrant workers in Beijing is comparatively high.
Gu Gunzhou, vice director of the Office of Sixth National Census said, Migrant workers in Beijing have received higher education than most of China's migrants. One in five of them has at least gone to college.
However, due to the current household registration system, most of them cannot enjoy equal social benefits, like government-run low renting homes. To make ends meet, they need to lower their living standards.
Xu Zhengzhong, from China Public Economy Research Center said, These people are in an awkward position now. They can't afford buying houses, can't renting lower price houses. But they ARE necessary for the development of the city.
Ye Yumin, from Renmin University of China said, Beijing's labor market and housing market has developed unevenly. Many work in downtown Beijing but have to live in suburbs. They have long distance to commute, which increase the pressure on city transportation infrastructure. It is also a waste of social resources.
And she also says, the city should adjust its social structure to develop high level industries to control the amount of people in the city.
Editor:Wang Xiaomei |Source: CNTV.CN