Watch Video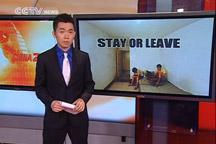 Play Video
ZS: I believe, the development of the city is in great need of the migrant workers. To keep these ambitious young men and women away from Beijing is not only negative to the city's development, but also a frustration for Chinese dreams.
JAMES: The challenge IS tough facing the city, is there any experience we can learn from?
ZS: Of course there is advancement we can learn from. Some foreign countries allow non-local residents social benefits and other favorable projects after working, living or paying a certain amount of tax. Move back to China, some cities in the country have already introduced policies to help non-local residents fight for equal rights.
Southwest China's Chongqing municipality put forward a government-run low renting policy last year. It first covers non-local residents into the group. East China's Shanghai, which is also a city with lots of migrant workers, also put forward policies allowing non-local residents to enjoy equal rights after living in the city for seven years. Experts also suggest phasing out the household registration system in order to fulfill equals right for all the Chinese.
Editor:Wang Xiaomei |Source: CNTV.CN