Watch Video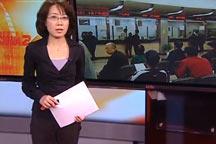 Play Video
For more on the draft amendments to the individual income tax law, we're now joined by our reporter, Liu Ying. Hello Liu Ying.
Q1: The main focus of the debate surrounding the proposals is the level of the tax exemption threshold. Can you tell us how the proposed 3,000-yuan threshold is set?
LY: The tax threshold means only the part of people's income higher than the threshold amount, is subject to taxation. According to finance officials, the threshold is set, based on the principle that basic living expenses are not taxable. And when the level of living expenses changes, the threshold should also be adjusted.
Figures from the National Bureau of Statistics show the average expenditures for urban residents were 1,123 yuan per person, per month, in 2010. This, multiplied by an index of 1.93, which means one working person supports nearly two people in a family ... plus an estimated 10% rise in living expenses ... brings the average estimated living expenses for 2011 to 2,384 yuan.
As a result, officials say the 3,000-yuan threshold is appropriate, and takes into account the price hike factor, both over the past few months, and in the near future.
Q2. Why is that most people still feel the tax burden is quite heavy, even after the proposed tax cuts?
LY: Well, I think one reason is that individual income taxes are just one of a string of taxes people have to pay. For example, if you buy a car, you'll have to pay a vehicle purchase tax, which is levied at 10 percent of the automobile's cost. In addition, a value-added tax of 17 percent is also included in the car's price.
If you buy cosmetics, you have to pay consumption taxes. If the products are imported, the tax rates could be as high as 50 percent. If you buy an apartment or a house, you'll have to pay contract taxes, as well as many other taxes and fees levied on the property transaction.
So a number of experts say, if combined, the comprehensive tax burden on Chinese taxpayers is rather high. That's probably one reason people are very concerned about their tax obligations, and are calling for tax cuts on an even bigger scale.
Editor:Xiong Qu |Source: CNTV.CN