Watch Video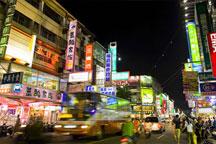 Play Video
For more on that, CCTV was joined in the studio by Current Affairs Commentator, Gregory Tsang.
Q1: For many Mainland residents, the new travel policy presents a good opportunity to experience the island. How can people take full advantage of this change?
Q2: At the third Straits Forum, many lower-level officials and magistrates from both sides are participating. What does this level of interest demonstrate?
Crossover: How's the preparation work in Taiwan going?
For more about cross Taiwan Tourism, CCTV was joined on the phone by Eric Shi, from CTi TV. Full Story>>
Chinese mainland, Taiwan to launch individual travel program
Residents from selected cities on the Chinese mainland will soon be able to visit Taiwan as individual tourists. Director of the State Council Taiwan Affairs Office, Wang Yi, says the pilot travel program will be launched by the end of this month. Full Story>>
New high expected for Taiwan tourism
Taiwan is preparing for a tourism boom after new policies allowing Chinese mainland residents to travel to the island as individual tourists come into effect at the end of this month. The stock market in Taiwan is already rising prior to the expected increase in tourists. Full Story>>
Editor:Shi Jierui |Source: CNTV.CN