Watch Video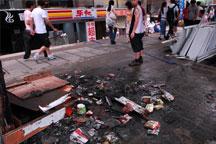 Play Video
Experts from the country's flood control and drought relief headquarters say one of the reasons people feel the number of disasters have been increasing in recent years is the growing number of monitoring stations across the country.
Shu Qingpeng, vice director of State Flood Control and Drought Relief Headquarters, said, "There's greater communication than before. People know more news from media reporting, that's why people feel disasters happen more often than before. Also the number of monitoring stations has grown from 3 thousand in the 1990s to more than 30 thousand now. More data is being recorded. We know of more disasters than before, but that doesn't mean they're happening more frequently."
An expert from the country's Meteorological Bureau explains the reasons for dramatic weather changes.
Lin Jian, China Meteorological Bureau, said, "The reason for the big weather change in South China this year is because of the big power switch of cold fronts and warm air. One week ago,the power of warm air from the Southwest was weak. Dry and cold fronts from the north were strong and dominated South China regions. Last Saturday the power of warm air suddenly increased bringing heavy rainfall."
The frequent changes of weather are determined by the global climate and cannot be controlled.
Shu said, "China is monsoonal climate. The weather is likely to be determined by the power of cold fronts and warm air at the same time. Nothing can change it, it just has to be dealt with."
And he also predicts that the strong power of warm air will last until the end of the month.
Editor:Shi Jierui |Source: CNTV.CN